Side Menu Ends, main content for this page begins
Back to Side Menu (includes search)
Two KHS Students Named National Merit Commended Scholars
Posted on: September 30, 2020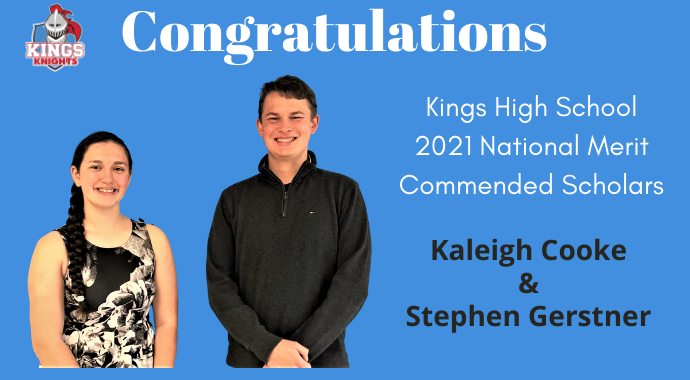 Two Kings High School seniors have been named as Commended Scholars in the 2021 National Merit Scholarship Program.
Kaleigh Cooke and Stephen Gerstner have been recognized as placing among the top 50,000 scorers of more than 1.5 million students who entered the 2021 competition by taking the 2019 Preliminary SAT/National Merit Scholarship Qualifying Test (PSAT/NMSQT®).
According to Kimberly Greiner, Executive Director of the Scholarship Administration, "Those being named Commended Students have demonstrated outstanding potential for academic success. These students represent a valuable, national resource; recognizing their accomplishments, as well as the key role their schools play in their academic development, is vital to the advancement of educational excellence in our nation. We hope that this recognition will help broaden their educational opportunities and encourage them as they continue their pursuit of academic success!"
Although Commended Students do not continue in the competition for National Merit Scholarships, some of these students do become candidates for special scholarships sponsored by corporations and businesses.
Kaleigh is the daughter of Carrie and David Cooke. Her current GPA is 4.491. Her future plans include studying Chemical Engineering and Biochemistry with a minor in Spanish at either University of Michigan, Purdue University, or The Ohio State University.
Stephen is also planning on majoring in Chemical Engineering at The Ohio State University. His GPA is 4.574. Stephen is the son of Eric and Nancy Gerstner.
What a tremendous achievement! Congratulations Kaleigh and Stephen!