Side Menu Ends, main content for this page begins
Back to Side Menu (includes search)
Kings Brings Neighborhood Bridges to the Kings Community
Posted on: September 25, 2020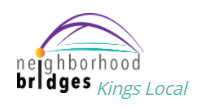 Neighborhood Bridges, a non-profit charity headquartered in Westerville, Ohio will be launching its Gateway for Kindness to serve the Kings Schools community! A 501(c)(3) organization, Neighborhood Bridges has driven direct support and care to more than 35,175 children and families in just 3 years by inviting school districts, mental health agencies, and clergy to advocate for those in need – then engaging each community to come together to help solve those needs. Neighborhood Bridges serves 23 communities in Ohio and Alabama.
How does Neighborhood Bridges work?
School district counselors, the resource coordinator, and appointed representatives of Joshua's Place and Beech Acres (referred to as "advocates") will post needs on behalf of students and families to the website and social media pages. Neighborhood Bridges-Kings will work with key stakeholders in the community to engage all resources to help drive direct support and care to our students and neighbors in need. When someone is able to fill a need, they can simply click on the "I can help" button where the need is posted. They will then receive an email back with further instructions on dropping off the item(s) in the Neighborhood Bridges clear bin at one of our two drop off locations: Kings Point Church or the Countryside YMCA Landen. A receipt is given at the drop off location by request. For items larger than what can be carried (i.e. beds, furniture, etc.), an Area Director will contact the donor to make arrangements. From there, one of our Area Directors will pick up the items and deliver to the family in need. Confidentiality is never compromised.
Neighborhood Bridges-Kings has a wonderful, committed Steering Committee composed of key partners and stakeholders, including Warren County Sheriff's Office, Hamilton Township PD, Deerfield/Mason Rotary, Mason-Deerfield Chamber, Joshua's Place, PTO's, Kings Board of Education members, Stacie Belfrom and Deb Cowan, Rivers Crossing Community Church, Kings Point Church, PTO presidents, United Way of Warren County, Countryside YMCA, Beech Acres, Sinclair, and Superintendent Tim Ackermann.
Kings Social-Emotional Health Coordinator, Kim Sellers anticipates that we will be able to serve at least 1.500 students in the first year. She said, "Kings is one of the most caring and generous communities I have ever seen, and I know Neighborhood Bridges is going to do big things here!"