Kings Junior High School
5620 Columbia Road ♦ Kings Mills, OH 45034
Grades 7 - 8
Phone: 513.398.8050, ext. 3
Attendance: 513.398.8050, ext. 32
Fax: 513.229.7974
Administration:
Eric Dunn, Building Principal
Ext. 12001 edunn@kingslocal.net
Taylor Rose, Assistant Principal
Ext. 12002 trose@kingslocal.net
Guidance Department:
Megan Apple, 7th Grade Counselor
Ext. 12007 mapple@kingslocal.net
Erin Hackman, 8th Grade Counselor
Ext. 12008 ehackman@kingslocal.net
School Nurse:
Melissa Dias
Ext. 11091 mdias@kingslocal.net
---
School Hours
MTWRF - 7:45 am to 2:15 pm
2 Hour Delay - 9:45 am to 2:15 pm
News & Announcements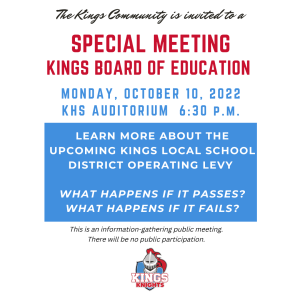 Posted on: October 4, 2022
Blog Entry Synopsis Begin
The Kings Board of Education has placed a 6.4mill Operating Levy on the November 8, 2022, ballot. This is an important ballot issue for the Kings Local School District. An operating levy is utilized for funding staff salaries, benefits, and student programs.
Blog Entry Synopsis End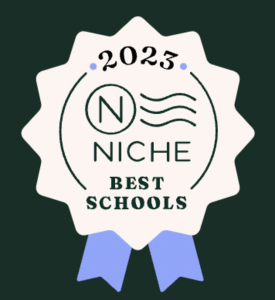 Posted on: October 4, 2022
Blog Entry Synopsis Begin
Niche.com has again ranked the best school districts for 2023. Kings has historically performed well in Niche rankings, which are based on academic and student life data from the U.S. Department of Education. They also use teacher salaries, racial and
Blog Entry Synopsis End