Side Menu Ends, main content for this page begins
Back to Side Menu (includes search)
Kings State Report Card and Quality Profile
Posted on: September 15, 2017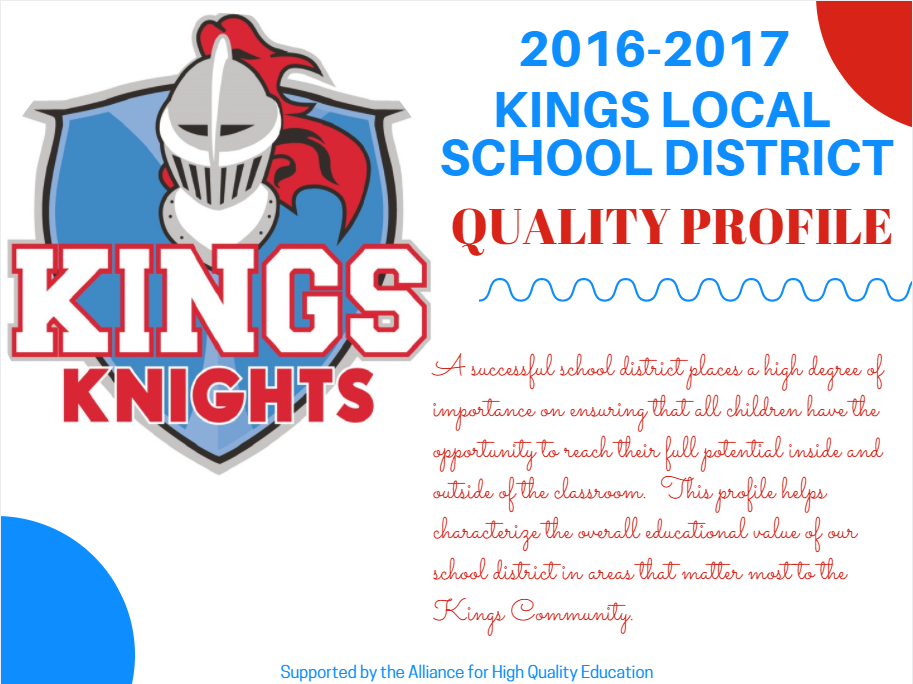 The Ohio Department of Education today released its 2016-2017 report card results for the state's school districts. The report card data was collected from state-mandated testing that Ohio students completed last spring.
The ODE uses the data to create six grade card components: Achievement, Gap Closing, K-3 Literacy, Progress, Graduation Rate, and Prepared for Success.
The State Report Card contains demographic details and results of state tests. While test results are important, those results do not fully depict what distinguishes this district as one of the highest performing districts in the State of Ohio.
Kings' overall Achievement grade is a "C" this year. The overall component grade is made up of the district's achievement grade and its performance index. While we believe that there is some value in the report card data, we do not believe that the state report card represents the accomplishments and successes that take place on a daily basis in our school district.
For this round of testing, the state increased its benchmarks by as much as 14 percentage points in some areas, making a true apples-to-apples, year-to-year comparison difficult.
Many of the Annual Measurable Objectives for the district increased, although the letter grade stayed the same. However, we are happy to report that the K-3 Literacy grade improved to a "B" from a "C."
Superintendent, Tim Ackermann said that the report card grades do not reflect the outstanding practices that are happening in our classrooms.
"The state report card is an ineffective tool to measure the education that we provide to our students," he said. "We are providing the resources for our students to create relationships, foster creativity, and be innovative. We are educating the whole child, not teaching them to be a good test taker."
For the 5th year, Kings Local Schools joined more than 85 districts throughout Ohio in releasing a Quality Profile, a comprehensive, community-oriented companion to the state's Local Report Card. The profile includes additional accountability measures that better define a high-quality education and are not included in the state's report card.
We hope that our community finds this report helpful as they measure the quality of education that our school district brings to the community.
Click to view Kings 2016-2017 Quality Profile.