Side Menu Ends, main content for this page begins
Back to Side Menu (includes search)
Kings Schools Ranked Top Ten in Cincy Metro
Posted on: January 10, 2017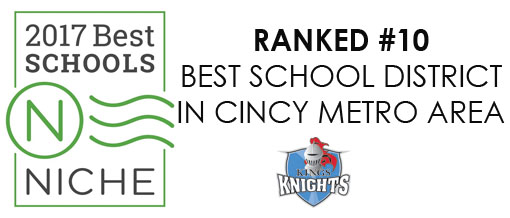 Kings Local Schools Highly Rated Again!
The latest Best School District rankings have been released by Niche K-12. We are thrilled to report that the Kings Local School District is ranked #10 in the Cincinnati Metro Area and #38 in all of Ohio!
Niche K-12 offers unique insight into more than 120,000 K-12 schools based on dozens of statistics and million s of reviews from students and parents, as well as data from the U.S. Department of Education. Students and parents can explore millions of reviews and rankings and compare educational outcomes across schools and districts.
The rankings from Niche are a bit different than some of the other school rankings. They believe that the quality of a school or district should be measured, at least in part, by the parents and students who actually go there. They should also be measured by hard data and across a number of key factors so that no one factor dominates a ranking.
There are 895 public school districts in the state of Ohio and the Kings Local School District consistently ranks highly in the state. Additionally, Kings is ranked #576 out of 10,364 districts in America! All schools in our district have been awarded an overall Niche Grade of an A.
See all of our Kings Local School District Rankings on Niche! #KINGSSTRONG