Side Menu Ends, main content for this page begins
Back to Side Menu (includes search)
KHS Athletes National Day of Signing
Posted on: April 13, 2016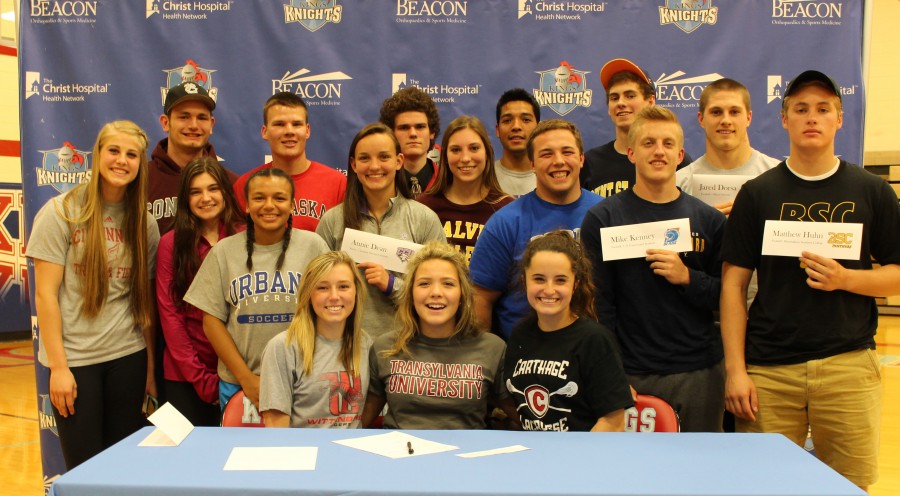 Fourteen student-athletes made their official commitments to colleges and universities at the Kings Athletic Department's Spring Signing Day on Wednesday, April 13. This year, 124 seniors participated in sports at Kings High School. The national average of student-athletes who go on to play collegiate sports is 7%. The KHS Class of 2016 boasts double that at 14.5%! This group joins the four other student-athletes who signed their intent on the fall and winter signing days.
Families, coaches, teachers, administrators, and teammates attended the signing event to witness these 14 student athletes sign their letters of intent. Not only were these students great on the field, they were impressive in the classroom with a group GPA of 3.605. Below is the list of athletes, sports, and schools they are attending. Congratulations!
Rachel Bernard —Wittenberg University (Lacrosse), Ricky Brayton—Berea College (Track & Field), Braden Burnside—Mount St. Joseph University (Basketball), Lily Bunse—University of Cincinnati (Track & Field), Annie Dean—Cincinnati Christian (Soccer), Evan Guckenberger—Taylor University (Football), Matthew Huhn—Birmingham Southern College, Michael Kenney—U.S. Coast Guard Academy (Football), Emily Lima—Carthage College (Lacrosse), Jordin Littles— Urbana University (Soccer), McKayla Madden—Transylvania University (Lacrosse), Zach McBride—University of Indianapolis (Lacrosse), John Weed—University of Nebraska (Football Film Crew), and Nicole Williams—Calvin College (Basketball).
Also recognized at the signing were the 4 athletes who committed at the fall and winter signing days; Blake Bockrath—East Tennessee State University (Football), Jared Dorsa—Ohio University (Football), Nathan Gambill—Concord University (Baseball), and Maddie Vossen—Tusculum College (Soccer).