Side Menu Ends, main content for this page begins
Back to Side Menu (includes search)
KHS Announces 2024 National Merit Semifinalists
Posted on: September 22, 2023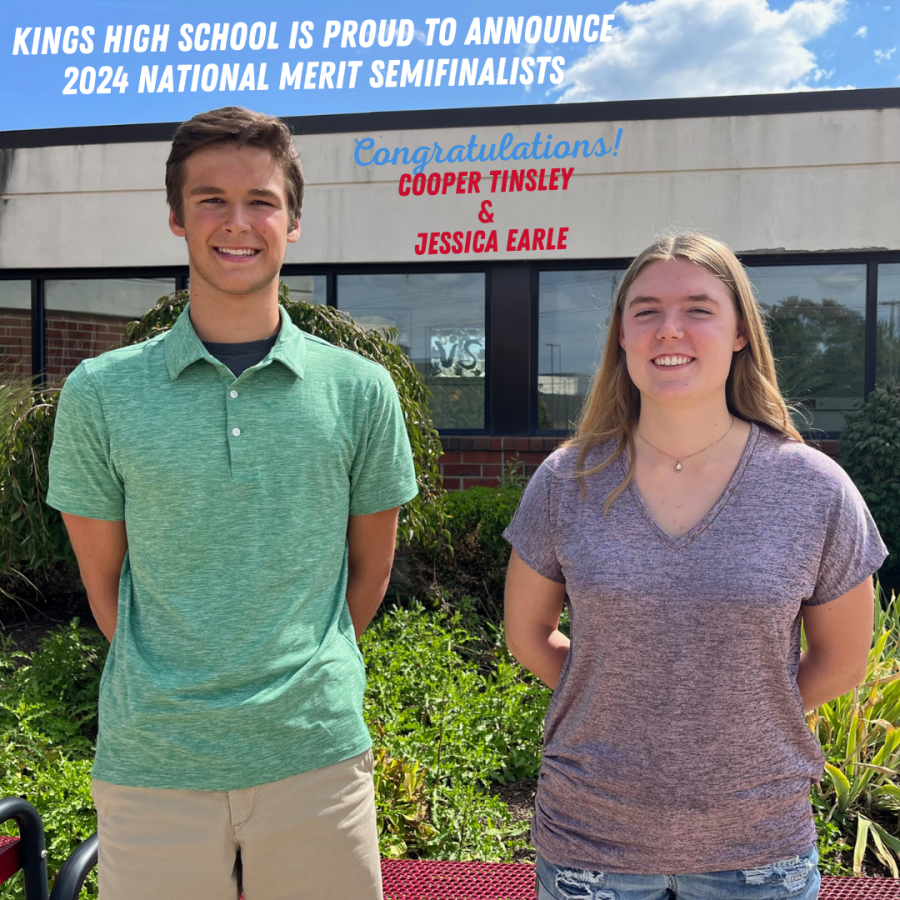 We are very pleased to announce that two Kings High School Seniors have been named 2024 National Merit Semi-Finalists.
Congratulations to Cooper Tinsley and Jessica Earle who are among more than 16,000 Semifinalists in the 69th annual National Merit Scholarship Program.
These academically talented high school seniors now have an opportunity to continue in the competition for 7,140 National Merit Scholarships worth nearly $28 million that will be offered next spring. These two are now among a nationwide pool of Semifinalists who represent less than one percent of high school seniors in the U.S.
In order to enter the 2024 National Merit Scholarship Program, the then-high school juniors took the 2022 Preliminary SAT/National Merit Scholarship Qualifying Test, which served as an initial screen of program entrants. Over 1.3 million juniors in about 21,000 high schools take the exam. The Semifinalists include the highest-scoring entrants in each state.
Of the over 16,000 Semifinalists, about 95 percent are expected to attain finalist standing, and close to half of the finalists will win a National Merit Scholarship, earning the Merit Scholar title, which will be announced in February 2024.
Cooper is the son of Kelly and James Tinsley. He holds a GPA of 4.58. His future plans will include studying Engineering or Computer Science at one of the following secondary institutions - Notre Dame, Purdue University, The Ohio State University, or the University of Cincinnati. He is still considering swimming at the college level so Washington and Lee University are in consideration, as well. Cooper is a member of the National Honor Society and Spanish National Honor Society, and he is a member of the Kings Varsity Swim Team.
Jessica is the daughter of Holly and Robert Earle. She has a long list of choices for college including Loyola University, Vanderbilt University, Ohio State University, University of Miami, University of Illinois, and Rutgers, where she plans on a double major in Political Science and something yet to be determined. She has a current GPA of 4.48. Jessica played softball and is a member of the National Honor Society and Spanish National Honor Society.
Congratulations to Cooper and Jessica! You make Kings proud!