Side Menu Ends, main content for this page begins
Back to Side Menu (includes search)
In Loving Memory
Posted on: October 19, 2021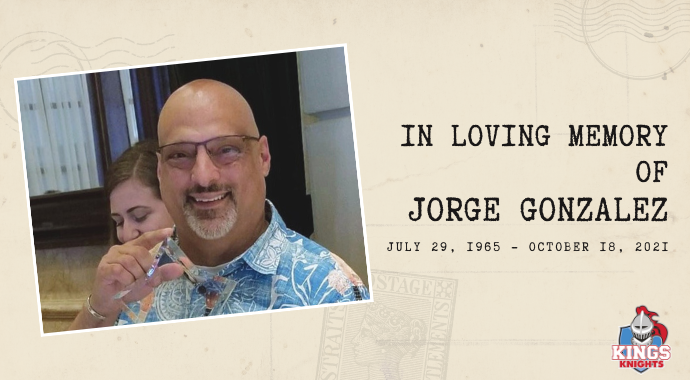 It is with great sadness that we announce beloved Kings High School Spanish teacher, Jorge Gonzalez passed away on Monday, October 18, 2021.
This fall Senor Gonzalez started his 34th year in education. He spent his first 2 years at Fairfield Local Schools in Leesburg, Ohio before coming to Kings. He received his undergraduate degree from Youngstown State and his graduate degree from the University of Cincinnati.
Senor Gonzalez coached junior high football for several years, was the Spanish Club advisor, a department chair, and a buddy teacher to newly employed teachers. He ran the scoreboard for men's and women's basketball and traveled to Guatemala with the Cooperative for Education Program to bring computers and textbooks to children.
In recent years, Jorge was the Diversity and Inclusion Coordinator for the district and also moderated student-led club KOAR (Knights Organized Against Racism). As an advocate for education, he recently completed eight years of service on the Ohio Education Association Board of Directors and had accepted a position representing OEA members on the Ohio Educator Standards Board.
He was an Ambassador for the Hoxworth Blood Center and is credited for starting the Kings High School/Hoxworth Blood Drive which, over the years, has donated hundreds of pints of blood to help those with blood cancers.
He was married to JF Burns Elementary School English Language Learner teacher, Karin Gonzalez who he met when they worked together at Kings High School. He and Karen have a daughter Lucy who is a junior at Kings High School. Jorge loved cars and he adored his wife Karin and daughter, Lucy.
Jorge touched the lives of many. Here are some quotes from people about our friend Jorge….
"Jorge was an incredibly kind, compassionate dedicated, strong, and impactful leader and educator"
"He was an advocate for all"
"He has blessed and inspired those who have known him"
"Heaven is receiving the kindest man"
"He was always willing to do anything that was asked of him"
"His willingness to stand up for the students of Ohio and public education was an example to all.
"Thank you for being such a strong advocate and supporter of Public Education!"
"Thank you Jorge for being a gentle but strong leader in education. Your love and advocacy reached so many"
Visitation will be Monday, October 25, 2021, from 5:00 PM to 7:00 PM at Mueller Funeral Home, 6791 Tylersville Road, Mason, Ohio 45040. Masks will be required to visit with the family.
A second visitation will be Tuesday, October 26, 2021, from 10:00 AM to 11:00 AM at St. John the Evangelist Church, 9080 Cincinnati Dayton Road, West Chester, Ohio 45069. Mass of Christian Burial will immediately follow at 11:00 AM.
One of the things that Jorge really wanted was to be able to create a scholarship for Kings' students. If you would like to make a donation towards the Jorge Gonzalez Memorial Scholarship Fund. you may do so at any Fifth Third Bank location.
Senor Gonzalez will be so missed. Please keep his family and colleagues in your thoughts.