Side Menu Ends, main content for this page begins
Back to Side Menu (includes search)
2016 Scholastic Regional Award Winners
Posted on: January 15, 2016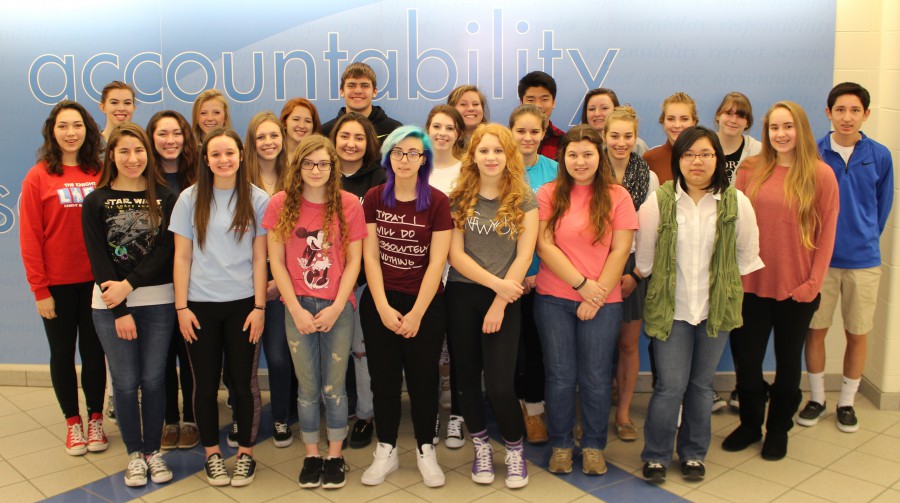 2016 Scholastic Regional Award Winners
The Scholastic Art & Writing Awards is the longest-running, most prestigious recognition program for creative teens in the U.S., as well as the largest source of scholarships for young artists and writers. Several Kings High School and Kings Junior High School students received regional awards recently.
These talented students have been instructed by teachers Kelly Shields, Angie Guilfoyle, Cassandra Barnes, Carrie Cooke, and Jan Thomann.
Portfolio Winners-(Over 90 portfolios submitted and only 12 chosen. Seven of those twelve are from Kings High School AP Digital Media Arts Students! These portfolios are now being judged nationally and may earn National Gold or Silver Medals).
Mackenzie Mettey, Abbey Ketterer, Grace Ficke, Emily Hoyle, Corrine Brown, Morgan Fitzgerald, and Katrina Kessler.
Gold Key Winners-(The highest level of achievement on a regional level. Approximately 7-10% of all regional submissions are recognized with Gold Key Awards.The Gold Key winners work will continue on to the national competition).
Roxanne Annese, Bailey Burnette, Joey Cornell, Ryan Dilts, Avi DiPasquale (2 winning pieces), Grace Ficke, Morgan FitzGerald, Emily Hoyle, Katrina Kessler (2 winning pieces), Madison Mettey, Joshua Song (2 winning pieces), and Rachel Stober.
Silver Key Winners-(Approximately 10-15% of all regional submissions are recognized with Silver Key Awards).
Sara Cockerham, Loren Cook, Alex Egan, Grace Ficke, Lauren Goslee, Noah Herd, Elisabeth Jolicoeur, Katrina Kessler(3 winning pieces), Jillian Krynock, Mackenzie Mettey (2 winning pieces), Trista Myers, and Emily Poole.
Honorable Mention-(This award recognizes students with artistic potential. Approximately 15-20% of all regional submissions receive Honorable Mention Awards).
Gianna Annese, Natalie Corradini, Grace Ficke, Morgan FitzGerald (5 winning pieces), Ruthie Galberg, Noah Herd, Emily Hoyle, Ben Kessler, Abbey Ketterer, Jillian Krynock, Emily Lavagna, Mackenzie Mettey, Madison Reckman, Joshua Song, Mikayla Werner, and Clynn Yeoh.
To view many of these students submissions, check out the Kings High School Digital Media Arts Blog and the
Studio Art Gallery.